As Jesus was walking beside the Sea of Galilee, he saw two brothers, Simon called Peter and his brother Andrew. They were casting a net into the lake, for they were fishermen. 'Come, follow me,' Jesus said, 'and I will make you fishers of men.'
At once they left their nets and followed him.
Matthew 4:18-20
In all four of the gospels, we read about Jesus calling the first disciples – telling them simply to 'follow me.' When we read this story in Matthew and Mark, it sounds like Jesus just walks by and tells random strangers to follow him and they proceed to leave everything without hesitation.

Why? Why would they just drop everything, leave their jobs, and follow this guy? Luke and John help fill in the gaps for us. In Luke 5, we read that Jesus actually goes into Simon's boat, and tells the fishermen where to cast their nets. Simon reluctantly agrees, and they end up bringing in so many fish they need to call in others to help, and the boats were so full they started to sink. It's after this amazing work that Peter and the others leave everything and follow Jesus. Jesus did an amazing work.

For us today, Jesus is still calling us to follow him. No, we don't have a physical Jesus standing in front of us telling us to physically follow him around. But we do have a Jesus who is knocking on the door of our hearts, wanting us to whole-heartedly follow him. In our minds, our thoughts and actions, Jesus wants to be one who directs and guides us as we live our lives. Not many of us would listen to a guy who just says, 'follow me,' so we can be encouraged that Jesus has done a much greater work than catch a boatload of fish.

Jesus took our place. He lived the perfect life none of us can live, and he humbly went to the cross and gave up his life for us. He paid the debt that we owe. He took the wrath from God that we deserve. He died the death we should die. Yet after all of this, the most amazing work was still to be accomplished. Jesus rose again because death has no hold on King Jesus. In the span of three days, Jesus defeated sin and death, the two things that we can never conquer on our own. It's from these acts of love that Jesus says, 'follow me.'

Following Jesus isn't some radical, crazy decision. It's the only logical thing to do after knowing what has been done for us. Let's rest in the person and work of Jesus. Let's believe and remind ourselves of his incredible love for us. Let's look to him and continue to seek his guidance in our lives. Let's follow Jesus.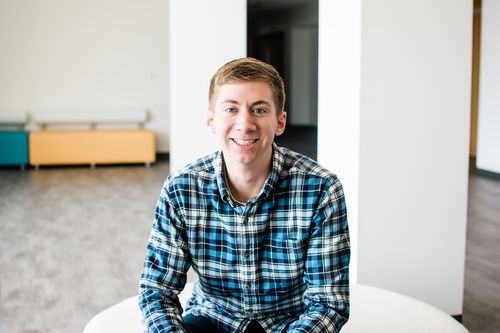 Garrett Crown | Student Ministries Associate