It wasn't my birthday or Christmas, but my sweet friend presented me with yet another gift. She is the queen of gift giving, one of those people who always finds the perfect present and often gives it for no special occasion. When I opened the tissue filled gift bag, it was a petite cobalt blue ceramic rowboat. It was not a surprise to see the boat, she knows I love boats and the color blue, but it was what she said that made the gift unforgettable. She quietly spoke words I won't forget, "thanks for always being in my boat".

Early in His ministry, by the shore of the Sea of Galilee, Jesus climbed into Simon's boat. Simon's fishing was not recreational, it was his profession. After entering, Jesus asked Simon to push the boat out from the shore, as the multitudes were pressing around Him and He continued to teach those who had gathered. When He had finished speaking, Jesus asked Simon to move the boat to deeper water and lower the fishing nets. Exhausted and discouraged from a long night of fishing, Simon admitted to Jesus that he and his partners had 'worked hard all night and caught nothing' and then in the next moment, he pivots in his thinking and declares, 'but, because You told me to, I will let the net down'.

Jesus was continually looking for ways to demonstrate God's power and provided a catch that caused the boat to begin to sink. Simon, shocked and realizing then for the first time the deity of Jesus, he fell down at His feet overtaken by the awareness of his own sin. Jesus later called Simon and others to come and 'catch men', the fishermen left everything and followed Him. Simon had realized in that moment that Jesus could do what he could not. Abundant fish when just hours before, there were none? Surely this man was God.

When we turn to Christ and follow Him, our hearts are acknowledging that Jesus is God. He does miracles, most notably the marvelous work of taking away the penalty of our sin. Jesus continues to do in our lives what we cannot do for ourselves. He brings peace to our hearts, purpose and direction for our lives, healthy relationships with family and friends, compassion for the poor and underserved, and relief from shame. And more.

It's grace to us that He can do what we desperately want and need but cannot provide for ourselves. Simon understood this, surrendered and followed for Jesus a lifetime. Perhaps you notice that you are 'working hard and catching nothing', nothing that satisfies your soul? We can follow Simon's example daily by saying to God, 'because You told me to, I will….'

But what is God asking you to do? Love someone who might not be so loveable? To consider your resources and choose more generosity? To enter into the conversation that you've been avoiding? To think more highly of your spouse than of yourself? To provide leadership for your child in spite of fear of rejection? Become more aware of what you are watching on television or social media and notice how it affects your heart? Whatever God is asking you to do, follow Simon's life changing words: 'because you told me to, I will'.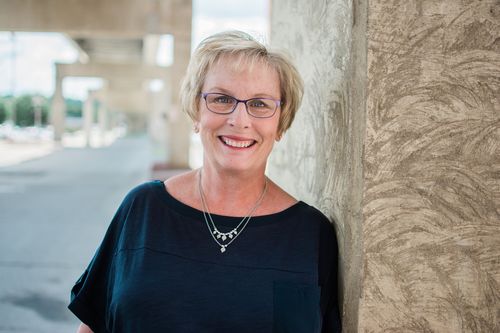 Linda Miller | Ministry Development