Only be strong and very courageous; be careful to do according to all the law
which Moses My servant commanded you; do not turn from it to the right or to the left,
so that you may have success wherever you go.
Joshua 1:7
Joshua had big shoes to fill. Following Moses' death, God tapped him on the shoulder and commanded him to lead the sons of Israel into the land promised to Abraham almost 500 years before. God gave Joshua three promises before he embarked on his mission: 1. Every place Joshua stepped would belong to the Israelites. 2. No man will be able to stop him from claiming the territory. 3. God promised to never leave nor fail him. It was a daunting task and God continued to speak four words to Joshua throughout the whole journey: 'Be strong and courageous'.

Joshua was not the only leader that God commanded to be strong and 'be not afraid'. He spoke the same words to Abraham, Isaac, Jacob, Moses, Gideon, Elijah, Hezekiah, Ezekiel, Jehoshaphat, Jeremiah, Daniel, Zechariah, Mary of Nazareth, Joseph, Peter, Jarius, Joseph, Paul and John and to the disciples on ten occasions. Most of these were leaders and God recognized that their assignments could cause them significant anxiety, apprehension and even panic.

The word 'strong' is derived from the Old English word related to streng, 'to string'. Christ followers take courage by knowing and remembering that we are 'strung' together with and firmly held by God. We're not left to do life alone, to work hard to muster up positive thoughts or to merely hope for the best. Strength comes by stringing ourselves to God in our thought life and refusing to disconnect. We must reject worry and fear, and cling to Christ.

Recently, I watched nervously as an enormous storm blew through our neighborhood threatening my five tomato plants, each laden with unripe green fruit of all sizes. Grabbing four pieces of shabby plywood, I constructed a make-shift fort in an attempt to shield the five plants from the howling wind. I knew that if any of the fifty-three (yes, I had been counting) green tomatoes became disconnected from the plant, they would never appear on one of my husband's long-awaited BLT sandwiches. I knew connection to the vine was vital.

Joshua knew from his experience observing Moses lead tens of thousands of folks through the desert that his task was a onerous one. However, Joshua's biggest challenge during the journey was to stay connected to God. This call of God required that he remained committed to process life through God's grid of faithfulness. Joshua's heart would only 'take courage' when his heart was focused on the one who had supplied all he had needed. Unrest, apprehension and foreboding feelings would come quickly if he considered the future with God factored out.

What is God asking you to do? What battle are you facing? Where are you tempted to be afraid or be discouraged? Refuse to process the future with God factored out. Process each piece of your future through God's grid of faithfulness. Stay connected by choosing to think about God each time your heart begins to feel anxious, fretful, worked up, and worried. In times of trouble this may require redirecting our thoughts multiple times a day, or more. Intentionally recalling that God is already in our future, that he knows, he sees, and he is with us, will enable us to reject fear and stay 'strung' to the gospel.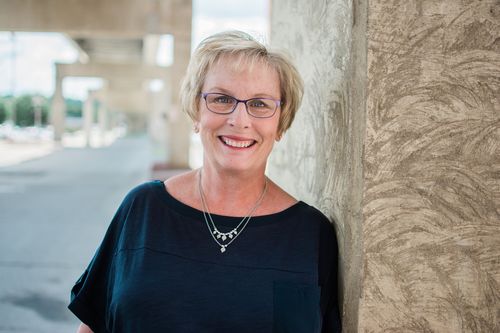 Linda Miller | Ministry Development