"I would maintain that thanks are the highest form of thought; and that gratitude is happiness doubled by wonder." -G.K. Chesterton
Philippi is in Modern day Greece, a part of Greece that is now and was then called Macedonia. When Paul and his friend Silas got to Philippi (Acts 16), the first person they encountered was Lydia, a seller of purple cloth, a color used by royalty. Here is Lydia, a businesswoman with royal connections who becomes the first Macedonian Christian. She paves the way for the church in Philippi to meet in her home and grow from there to be one of Paul's most supportive churches. While in Philippi, Paul and Silas encounter a girl, who is being harassed by the unseen world. She is following them around and causing a great commotion, and Paul, growing tired of the commotion, casts away the spirit who is harassing her. The spirit that was harassing her caused her to do some things that made her owners money. So her owners were upset that these newcomers caused their business to go away. Paul and Silas were beaten and thrown in jail. However, that night God caused an earthquake to rattle their shackles and chains loose, causing them to have a moment with the jailer who then trusted Christ.
Needless to say, Paul had been through a lot with the Philippians which makes his prayer for them that much more intimate. His words are not empty, when he says, "I long for you with the affection of Jesus Christ." He means it. He is grateful for them, not just for what they did to help him, but because of his deep relationship with them. He is grateful for their love. So it makes sense for Paul to pray for their love to continue to grow and for that love to drive them to know God more, to seek out who God is and what he wants. As they do that, and as their love grows, so does their discernment on what is best.
Who in your life are you grateful for? When was the last time you told them that? I notice I say a lot of things to myself that I don't say to others (which is probably good in some scenarios *wink). I often am thankful in my head, but too often the thought never finds expression in my words or actions. Oh sure, I will say the polite 'thank you' to the servers at the restaurant or to my kids when they finish their chores we assign them, but how often do I stop them and just thank them for being who God made them to be? Not often enough.
Paul also encourages the believers to remember that what God started, his work in changing their lives, will continue until they meet their Savior. He longs to see them face to face, as they are friends, not merely co-workers in the gospel.
Questions for reflection:
Who do you need to reach out to and let your inner gratitude find expression externally for today?
If you are feeling spiritually stagnant, how can you change your focus to find courage and hope and growth?
Who is one of your co-workers in the gospel?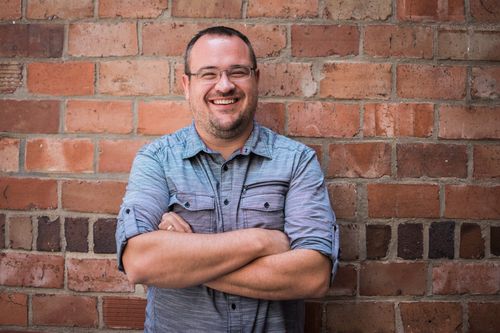 David Flug | Community Life Pastor