There is no such thing as coasting in our relationship with the Lord. We are either becoming more like Christ or becoming less like him. A middle ground doesn't exist. The enemy knows this too. Instead of tempting us to do horrifically evil acts – things most of us wouldn't even consider doing – he tempts us to be complacent. Complacency doesn't always look bad; it doesn't necessarily feel wrong, yet it slowly pulls our focus and attention away from Jesus.
Paul shows us the antidote to complacency – pressing on.
'Forgetting what is behind and straining toward what is ahead,
I press on toward the goal to win the prize for which God has
called me heavenward in Jesus Christ.'
Philippians 3:13-14
Following Jesus was never meant to be a passive endeavor. Yes, Jesus saves us, and it's only by his life, his death, and his resurrection that we are saved. And when he saves us and changes us, he's inviting us to actively pursue him.
Consider a highly coveted quarterback who is transitioning from college and entering the NFL draft. He's picked number one overall. He's given a jersey, placed on a new team, and most importantly promised a Super Bowl win. That's the goal, the prize, the reason he's playing. Now imagine this same player discontinuing workouts. He stops weightlifting, throwing the ball, and learning from coaches. He becomes complacent.
Although the promise of winning a Super Bowl still stands, he's missing his calling. He's missing out on the way he was designed to live. Seeing the prize that is at hand should encourage him to workout, to practice, and to press on. He isn't a Super Bowl winner yet, but he knows that's where he's headed, and his life should reflect it.
Paul puts it this way:
'Not that I have already obtained all this, or have already been made perfect, but I press on to take hold of that for which Christ Jesus took hold of me.' (Philippians 3:12)
Though you and I aren't perfect, Jesus' perfection has been gifted to us. He has taken our messy lives and given us a new name. We've been placed on a new team, and we are headed to a new home. That's the prize – an eternity with Jesus forever. We will be perfected, and we will rise again from the dead. May these truths encourage us to keep going, to persevere, to press on.
So, read the Bible. Spend time in the Word. Take time to pray. Practice patience. Continue to learn what it means to love God, your family and your neighbor. Remember the prize. Recognize that Jesus has done it all on your behalf, and even as we try to grow, it's still happening through the strength of Jesus working in us. Allow this to encourage you to put in effort – to press on and keep your eyes fixed on Jesus.
Questions for reflection:
Take some time to reflect. Has complacency been a trend in your life? What kinds of things/habits have made it difficult for you to press on?
Think for a moment about Jesus and all of the things he's done for and is doing for you. What steps can you take today to practice pressing on?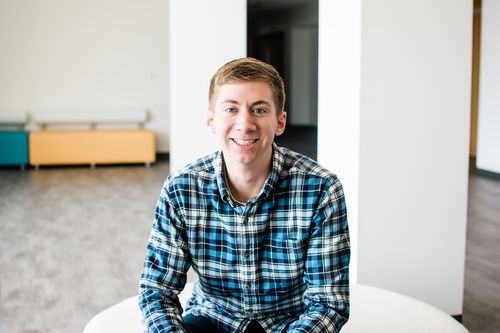 Garrett Crown | Student Ministries Associate