Once again we notice that Paul encourages the Philippians to 'stand firm'. This phrase: 'Stand firm' (histemi in the Greek) is to make firm, keep intact, or to sustain against the force of something, words that are often used in a military setting. My most recent experience of attempting to 'stand firm' took place in our boat. Walking to the front of the boat I was caught off guard when unusually large waves slapped the side of our pontoon, I wobbled, stumbled a bit and realized I could very quickly be horizontal. Bending my knees and using my arms for balance, I watched the waves and anticipated their impact. Fortunately, I was able to stand firm until the lake calmed down. In Philippi, all kinds of waves were slapping up against the church: persecution, a lack of unity, and even false teachers. Paul wanted the folks he loved to intentionally stand firm and stay in the faith by believing truth and choosing unity.
We notice in verse 2 that Euodia and Syntyche were not standing firm in their relationship. We see from the passage that Paul valued these two women, as they had endured many difficulties and struggles in their work to plant this new church. But now, these ladies were not on the same page. Paul knows this is problematic. Rather than speak strongly, his use of the word 'urge' is gentle, a tone of almost begging and pleading them to move forward and choose to remain on the same team for the gospel. Their conflict was probably not doctrinal as Paul does not provide any correction related to faith and belief. Unfortunately, even the most mature, faithful, and committed people can slip into selfishness and cause great harm to the church.
Next Paul asks for help. He realized that someone was needed to intervene and help these friends reconcile, as they seemed unable to navigate restoration themselves. His desire was that the church should be a place where people support each other, care for one another, and develop mutually accountable relationships. Pastor and author Tim Keller comments, 'The church is a hospital for sinners, not a museum for saints.'
All of us enter difficult places at times, just like these women, yet we can easily dismiss the idea of getting help. Some of us are regularly stubborn when it comes to contacting the doctor for help with a nagging physical problem. We hesitate to search for expert care when our lives become impacted by depression or anxiety. We may think that our parenting challenges will eventually just work themselves out, so we hesitate to find professional help or seek advice from an older friend or mentor. Our marriages can be crumbling, almost to the point of no return, before we drag ourselves to a marriage counselor. But Paul knew that good help for these women would be their best chance of standing firm.
Are you in place of struggle today? Do you need to reach out to a trusted friend, a counselor, a doctor, or mentor? Pray and ask God for his direction and refuse the pride of self-sufficiency. We need each other, and sometimes our challenges even require an expert to help us stand firm in faith and in life.
Questions for reflection:
Do you need to seek help for an area of your life where you are not standing firm? Marriage? Depression? Spiritual confusion? Loneliness? An addiction you can't seem to overcome? Parenting challenges? A medical issue? Move forward on this today.
Who might need you? Perhaps God is calling you to come alongside and help someone stand firm amidst the waves of their lives.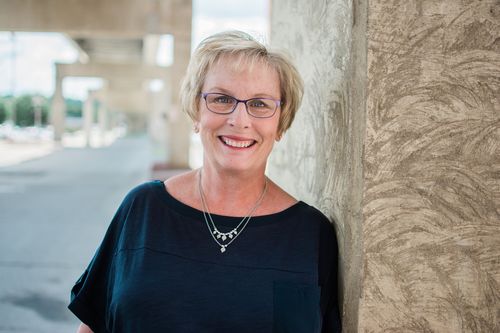 Linda Miller | Ministry Development