You husbands likewise, live with your wives in an understanding way,
as with a weaker vessel, since she is a woman; and grant her honor as a fellow heir
of the grace of life, so that your prayers may not be hindered.
I Peter 3:7
I am really good at ignoring my kids. Kids have a tendency to want to do things over and over again. They plead their case when I have already given them an answer or they have a tendency to continue to speak words when I have requested them to perform a task like clean their room or do the dishes. If you are a parent, you know what I am talking about! One of my parenting pet peeves is when my kids continue to ask me about something that I have already given an answer to or continue to protest after I have assigned them a task. It's at that point I am really good at ignoring my kids. They have learned that when dad stops responding he is expecting them to be content with the answer I gave or move forward with what I have asked them to do.
Scripture tells us of times when God stops listening to us. One is Psalm 66:18 'If I had cherished sin in my heart, the Lord would not have listened, but God has surely listened and heard my prayer.' When we have sin in our lives that we have not confessed to God, it hinders our prayers. Our passage today is another example. Peter encourages and really lays down a commandment to husbands to be considerate and treat their wives with respect.
The Bible has always been countercultural. Treating women with respect wasn't a value in Roman culture. Wives were seen as property, better than slaves, but not a whole lot more. Peter is calling out the believing husbands to be different than the world around them. He is elevating the status of women higher than the culture around them. While they are (typically and generally speaking) weaker physically, they are heirs of the gracious gift of life that comes through Jesus Christ. The warning is that if husbands don't treat their wives with kindness and respect, their prayers will be hindered.
I have a tendency to snap at my wife from time to time, especially when I feel like I am being inconvenienced by something she is asking me to do. Just the other day she asked me to put my clothes away and I was busy with something else. She asked again because I didn't respond to her and then I snapped 'Yes, I will do it, but not on your time frame.' Needless to say, I had to seek forgiveness for my response to her. It wasn't considerate or respectful. This idea of respect isn't purely men to women or women to men, but Paul, speaking on the same topic in Ephesians 5:21, says, 'Submit to one another out of reverence for Christ.' Love and respect are ultimately mutual, no matter what the traditional or non-traditional gender roles look like in our homes.
Questions for reflection:
Are there things holding back your relationship to your spouse? To God? Confess those today.
What is it that God is asking you to do, or is asking you to be content with, that you are refusing? What is your next step?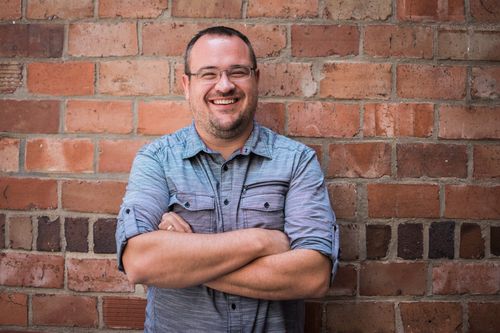 David Flug | Community Life Pastor