The Spirit himself testifies with our spirit that we are God's children.
Romans 8:16
There was one summer when our family went to the Adventureland amusement park. It was a little kid's dream except for the fact that the teacups gave me more intensity than I wanted to feel on any ride. One specific memory I have was when our family was walking down one of the big pathways. People were everywhere, and when you are little, your view is only right around the average person's waist. The crowds were getting really overwhelming, so I went to go hug the back of my dad's leg. Except the man I was hugging suddenly turned around, and he wasn't my dad. I instantly had this gut-wrenching feeling that I was lost. A wave of insecurity and doubt hit me as I wondered whether I would ever get to be my dad's son again.
There will be times in life where many of us feel this way about our heavenly Father. We may seriously doubt if we truly are his children. If believers were honest with one another, almost every single one of us could point to a season where we questioned if we were really in the family, if we were actually a child of God. It's okay to have these moments, but God's desire is not for us to live in a limbo of 'I'm in,' 'I'm out,' 'I'm in,' 'I'm out.' For those of us who have placed our faith and trust in Jesus, we are children of God. Take comfort in these words.
My sheep listen to my voice; I know them, and they follow me. I give them eternal life, and they shall never perish; no one will snatch them out of my hand. (John 10:27-28)
For I am convinced that neither death nor life, neither angels nor demons, neither the present nor the future, nor any powers, neither height nor depth, nor anything else in all creation, will be able to separate us from the love of God that is in Christ Jesus our Lord. (Romans 8:38-39)
When you believed, you were marked with a seal, the promised Holy Spirit, who is a deposit guaranteeing our inheritance. (Ephesians 1:13-14)
All of these passages give us confidence that once we are God's children, we will always be God's children. The Holy Spirit not only seals us, but he also indwells us to remind us of these truths. When our spirit starts to doubt, the Holy Spirit prods us toward the truth – that we are children of God.
Take heart in the truth that staying God's child isn't a burden you have to carry. God brings us to himself, and he is the one who keeps us as his children. This isn't a performance-based system. God isn't only keeping those who are behaving the best. He is keeping those who have in humility, recognized they have no chance of being in God's family apart from Jesus Christ.
Jesus took our place so we could take his. We are adopted into God's family and are considered co-heirs with Jesus. This should blow us away. The God of the universe has offered us his Son's inheritance. This is an inheritance that goes beyond the ups and downs of this life, and it can't be taken away. Even when we doubt, our doubt doesn't change the reality of these truths. For those who know Jesus, rest here, and let the Spirit testify to your spirit that you are God's child.
Questions for reflection:
Doubt is real – take some time and be honest with yourself and the Lord – do you have doubts? What are they? Let God know about them.
As you are real with your doubts before the Lord, let's let him be real us too. Find a couple truths from today that you can cling to throughout this week.
Spend some time in prayer - ask the Spirit to help remind you of these truths.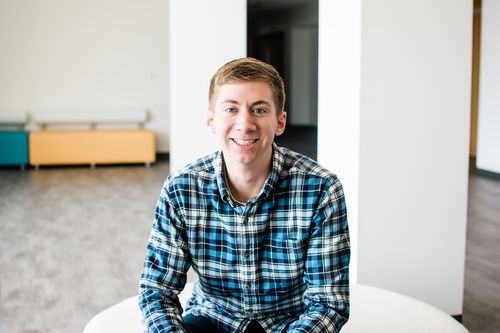 Garrett Crown | Student Ministries Associate