Today's reading is John 19.
Open your Bible or journal to mark some observations:

+ Mark the words that Jesus spoke in this chapter.
+ Mark the people that observed the crucifixion.
It was a gruesome scene. I was building the framework for a new bulkhead in my basement. I grabbed one piece and clamped it with my hand to the other piece. I then grabbed my nail gun and shot a framing nail into the joint I was clamping with my hand. It took about ten seconds for me to feel it - a hot searing pain. I had shot a framing nail through my left index finger. Blood was everywhere. I wasn't sure what to do next, and the pain was definitely clouding my judgement! After my initial scream, I set the framing nail gun down on the table next to me and assessed the scene. I knew I was going to have to back my finger off of the nail and it already hurt, so I assumed that it was going to hurt worse to back it off the nail. I was right. I screamed again. More blood. I drove to the ER.

That was a painful ordeal. If my index finger hurt that bad with a nail in it, I can't imagine the nails in Jesus wrists and feet. All I could do was scream, nothing as coherent as 'Woman, here is your son.' Or 'I'm thirsty.' I can't imagine the pain. Then, when I think about the big picture of what is going on in John 19, I am reminded that the suffering of Jesus was much bigger than just the physical pain.

Think about it. God, in his justice, cannot allow (humankind's) rebellion to go unpunished. But what punishment fits the crime of the creation rebelling against the creator? Certainly, there is nothing that the creation can offer the creator, right? God made it clear to Adam and Eve that the punishment for rebellion was death, and because God is just and honest, he had to make good on his promises. But God, who is rich in mercy and loves his creation so much, promised that he alone would make things right.

Fast forward to Jesus, the Messiah, the Rescuer, the one who would make things right. God, the only one worthy to satisfy his own righteous demands for our error, the only one who can make reparation for the extent of our sins, comes down and does that. He was nailed to a cross, speared in the side, then buried in the ground, just like his creation. The punishment that we earned, he took on for us in order to maintain a relationship with us.

What is our response to that? What could we possibly offer? Paul says in Romans 12:1 'Therefore, I urge you my dear brothers and sisters, in view of God's mercy, to offer bodies as living sacrifices, holy and pleasing to God, this is your true and proper worship.' We can offer our lives. We can live like we were bought with a very expensive price, because we were. The precious blood of the Creator of the world was the price for our justification.

Just for today-

+ Think about the emotions you felt as you read you read the story of the crucifixion.
+ What does it look like to live lives of sacrifice?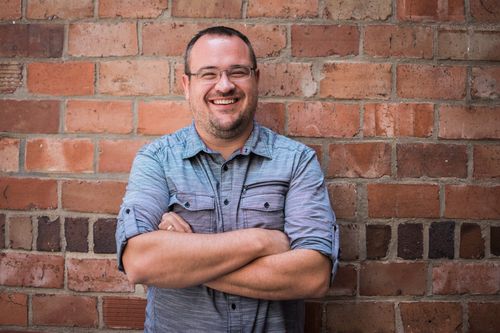 David Flug | Community Life Pastor