The Parable of the Mustard Seed
Everyday with God
The Parable of the Mustard Seed
Matthew 13:31-32
He told them another parable: 'The kingdom of heaven is like a mustard seed, which a man took and planted in his field. Though it is the smallest of all your seeds, when it grows, it is the largest of garden plants and becomes a tree, so that the birds of the air come and perch in its branches.'

Sometimes the reality of the present distracts us from the promise of the future. When Jesus came, most God-fearing people expected the Son of God to come in power and dominance to establish his kingdom. Instead, Jesus came as a vulnerable baby who would eventually offer up his own life on a criminal's cross. This isn't how Jesus was expected to bring the kingdom of heaven.

For those listening to Jesus share this parable, they were seeing it play out before their very eyes. Jesus didn't start his kingdom by befriending the influencers. He didn't pursue relationships with the powerful. Jesus had fishermen follow him. He ate with tax collectors and sinners. He talked with the unclean and interacted with the lepers. Jesus' crew were viewed as lowly and unwanted. If there ever was a small start to a kingdom, this was it.

Though the kingdom of heaven has undoubtedly grown since Jesus' time on earth, we still can be distracted by earthly kingdoms. We see the kingdom of Covid-19, of cancer, of sickness. We see the kingdom of politics. If we're honest with ourselves, we see our own kingdom too. The point is not that all other 'kingdoms' are bad, but they are dangerous when they consume our thoughts and distract us from Jesus and his kingdom. When we only see the reality of the present, we can too quickly forget about the promise of the future. Isaiah helps us understand this parable as he predicts the coming of Jesus.

For to us a child is born, to us a son is given, and the government will be on his shoulders. And he will be called Wonderful Counselor, Mighty God, Everlasting Father, Prince of Peace. Of the increase of his government and peace there will be no end. He will reign on David's throne and over his kingdom, establishing and upholding it with justice and righteousness from that time on and forever. (Isaiah 9:6-7).

This is the promise of the future and it is truly the promise of the present. Jesus Christ is reigning, and his kingdom will have no end. The kingdom of heaven won't just be the largest kingdom, but it will eventually be the only kingdom. This should greatly encourage us. When life brings crazy ups and downs, there is the promise of Jesus and his kingdom that we can and should always hold onto. He is the hope beyond all hopes.

Just for today-

+ When life gets overwhelming, think about God's promise of the future.
+ What kind of daily rhythms do you practice that help to remind you of Jesus and his kingdom?
+ Think about someone you know who isn't yet a part of Jesus' kingdom – spend some time praying for them. Let them know you were thinking of them and see where the conversation leads.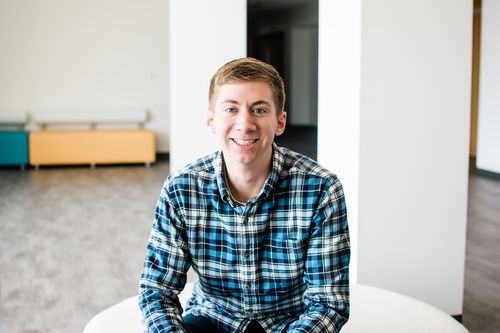 Garrett Crown | Student Ministries Associate