The Parable of the Wedding Banquet
Everyday with God
The Parable of the Wedding Banquet
Matthew 22:1-14
One of my favorite things to do is going to college football games. Nothing beats the pregame anticipation and the crowds packing the stadium. It's special. I will never forget the time I was invited to an Iowa State game many years ago. They were hosting the #2 team in the country in Oklahoma State, and I knew we didn't stand a chance. Even though the ticket was free, and I would've had a ride to the game, I declined the offer. Later that night with my hands on my head in disbelief, all I could say was, "I could've been there!!!" The Cyclones won the game in miraculous fashion, and the entire stadium rushed the field in one of the most epic upsets in Iowa State history.

"I could've been there…"

This is exactly what Jesus is trying to get us to see in this parable. There is an invitation extended to you and to me to be a part of his kingdom. Jesus knows what's coming. He knows that he will come back to earth to rule and reign forevermore. Are we going to be caught saying, "I could've been there"?

Even when I missed this football game, I consoled myself by thinking 'there's always next time,' and there may be a next time to catch a good football game. But, once this life is over, there is no next time. This is our second chance, and an invitation from Jesus isn't enough. We need to accept it.

The beauty of Jesus' invitation is written here in this parable.

So the servants went out into the streets and gathered all the people they could find, both good and bad, and the wedding hall was filled with guests (Matt. 22:10).

It doesn't matter how good of a person you've been, and it doesn't matter how bad you've been. All people are in need of an invitation from Jesus, and he's extended it to everyone. It's an invite to stop trying to live this life on your own. It's an invite to acknowledge that it's okay to not be okay. It's an invite to completely surrender your life so Jesus can make you new.

Jesus isn't about making this complicated. We read from Acts as people were asking how to respond to the gospel message:

Repent and be baptized, every one of you, in the name of Jesus Christ for the forgiveness of your sins. And you will receive the gift of the Holy Spirit. The promise is for you and your children and for all who are far off—for all whom the Lord our God will call (Acts 2:38-39).

Jesus has given his life so that you and I can live with him forever. He's provided a way to God when there was no other way. When we accept this invitation, Jesus changes us. He washes away our sin, and before God, we are now seen as pure because of the perfection of Jesus gifted to us. This is an invitation worth accepting and spreading to those we love.

Just for today-

+ What's your story? Have you accepted the invitation of Jesus in your life? What was that like?+ Who is someone close to you who may not have accepted Jesus' invite yet?
+ What is one thing you can do this week to work towards sharing Jesus with them?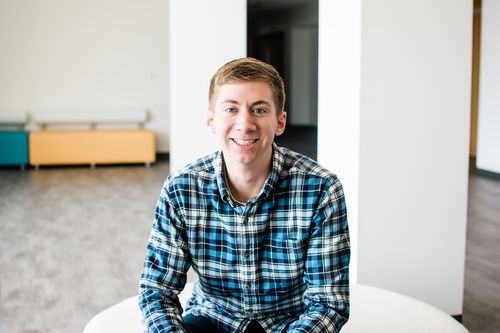 Garrett Crown | Student Ministries Associate