The Parable of the Money Lender
Everyday with God
The Parable of the Money Lender
Luke 7:36-50
Whether we recognize it or not, all of us are experts at the comparison game. No matter how hard we try to turn it off in our own minds, we still think things like:
At least my spouse isn't on their phone constantly
Glad my kids don't behave like them
Thankful I don't struggle with that issue
They must be spoiled with so much money
This kind of thinking resembles the thoughts of the Pharisees. It's the 'better than' mentality, and Jesus confronts it. As the woman in this story is wiping Jesus' feet and pouring perfume on them, we read this:
When the Pharisee who had invited him saw this, he said to himself, 'If this man were a prophet, he would know who is touching him and what kind of woman she is—that she is a sinner. – Luke 7:39
Jesus is incredible. Not only is this Pharisee condemning this woman, but he also is casting doubt on Jesus being a prophet – as if Jesus wasn't able to perceive what was happening around him. This story is so rich because after a simple illustration, Jesus forgives the 'worse' sinner, and he displays his power as a prophet by sharing a story that directly addressed what the Pharisee was thinking to himself.
If you regularly find yourself in the 'better than' mentality, be ready to be humbled. Jesus isn't about the self-righteousness. He isn't about the proud. These hurdles are detrimental to the gospel of Jesus Christ. We need Jesus + nothing, not Jesus + what we bring to the table.
Now, not everyone plays the comparison game the way this Pharisee did. Many of us find ourselves thinking thoughts like:
If only I looked as good as…
People don't really care about me
My family is a mess
I will never get past this problem
These are 'less than' thoughts, yet pride isn't just an issue for those who think they are superior. Pride is happening anytime we become too focused on ourselves, whether it's seeing ourselves in a good light or a bad one. In the midst of our own pride, Jesus wants to show us the way forward. No matter how many slip-ups or mistakes we've made in this life, no one is beyond the reach of the forgiving work of Jesus. In this story, Jesus reminds us of his power over our sin.
Then Jesus said to her, "Your sins are forgiven. Your faith has saved you; go in peace." (Luke 7:48, 50)
So, wherever you find yourself today, know that Jesus' forgiveness trumps our sin. We will never be able to out-sin the grace of Jesus. He helps us take our eyes off of ourselves, and he replaces our pride with a humility that can only come from him.
Just for today-
- What's your tendency? What kind of thoughts have you been thinking recently?
- Be honest with the Lord – when you find yourself comparing in an unhealthy way, bring those before God.
- What is one thing you can do this next week to help remind yourself to fix your gaze on Jesus?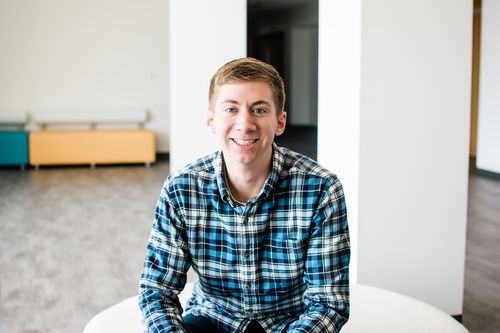 Garrett Crown | Student Ministries Associate