The Parable of the Good Samaritan
Everyday with God
The Parable of the Good Samaritan
Luke 10:30-37
And wishing to justify himself, the lawyer asked Jesus, 'And who is my neighbor?'
Jesus said: A man was going down from Jerusalem to Jericho, when he was attacked by robbers. They stripped him of his clothes, beat him and went away, leaving him half dead. A priest happened to be going down the same road, and when he saw the man, he passed by on the other side. So too, a Levite, when he came to the place and saw him, passed by on the other side. But a Samaritan, as he traveled, came where the man was; and when he saw him, he took pity on him. He went to him and bandaged his wounds, pouring on oil and wine. Then he put the man on his own donkey, brought him to an inn and took care of him. The next day he took out two denarii and gave them to the innkeeper. 'Look after him,' he said, 'and when I return, I will reimburse you for any extra expense you may have.' Jesus continued, 'Which of these three do you think was a neighbor to the man who fell into the hands of robbers?'

The expert in the law replied, 'The one who had mercy on him.'

Jesus told him, 'Go and do likewise.'
Everywhere he went Jesus was confronted with questions. Sometimes he answered outright, other times he replied with a question and other times responded with a story. This well-known parable answers the question: who is my neighbor? But could also be translated, 'who must I love?'

One observation from this parable is that we are called to love those we have not chosen but the one that God chooses for us. The Samaritan man and the Jew would never have picked the other as a neighbor. We might miss the shocking nature of this parable because we don't understand just how much the Jews hated Samaritans. This hatred went back hundreds of years. They became neighbors only because one man's misfortune collided with another's generous compassion. G.K. Chesterton remarks, 'We choose our friends, we make our enemies; but God makes our next-door neighbor.'

Could Jesus really be saying that we are to love and care for needy strangers? To serve extended family members with whom we awkwardly share our holidays? What about the neighbors that live close, really close- like those with whom we share our home? To reach out to foreigners that might not speak our language? What about teenagers that seem to have arrived from another planet? And on and on…

Jesus so honestly reminds us that sacrificial love is costly. Loss of time and efficiency, a willingness to sacrifice comfort, depletion our resources, uncomfortable conversations and more are necessary for this depth of neighborly love. The Samaritan chose to care for this man with limitless love, loving his 'neighbor' as himself. Jesus tells us to go and do likewise.

Just for today-

+ To whom might God be calling you to extend limitless love?
+ Ask God for an open heart to move toward a 'needy stranger' and to share sacrificial kindness.

*Post-Script
The morning after I wrote this devotion, I stopped by Walmart to pick up a few things before I headed to work. A 'few things' turned into thirty-ish items and my impatience led me to the self-checkout. In the midst of scanning, organizing bags and dropping cans, Karen, one of the employees kept circling to see if I needed help. I didn't. Finally, she launched into conversation, complementing me on my boots and my jewelry. I was moderately pleasant, but well aware that my efficiency factor was slipping away, and my frustration grew. And then, it came to me. 'This is your neighbor'. Busted. Deep breath. More conversation around the details of her mother's recent surgery, an overwhelming move to an apartment, and the inevitable chatter related to Covid. As I was leaving she asked where I worked. Yikes. I will be praying that I can learn from this short little lesson on loving Karen, my neighbor, at 7:30 am in Walmart.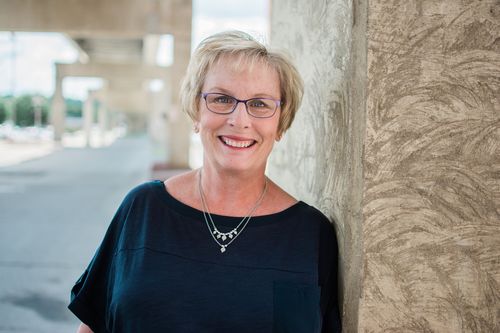 Linda Miller | Ministry Development