Everyday with God

Be hospitable to one another without complaint.
I Peter 4:9
'We are having chili, crackers, and water,' stated our hostess Carol, when I inquired as to how I could help her prepare for our lunch together. John and I had been invited to Ken and Carol's on Superbowl Sunday following church with about a dozen others. Newlyweds and recent church attenders, we were excited to be included and to get acquainted in this newly started church plant.

Although I didn't expect an eight-course meal, I was taken back when she announced our extremely simple lunch fare. I could only think of what my mother would have served. Mom would have at least thrown out some carrots and ranch dressing, or cornbread and honey butter, or something... Maybe Carol hadn't heard of shredded cheese, sour cream, Fritos, or a glass of tea or pop? But the conversation was lively, hilarious stories were shared, and we left feeling more connected. However, when we returned home John headed to the kitchen and quickly gobbled down a peanut butter and jelly sandwich.

For me, the 'chili dinner' was an unforgettable lesson in hospitality #101. While Carol's meal and home were modest, the kind-hearted invitation and the warm reception encouraged me to open our home regularly, with joy. There is something special about sharing a meal in a home, whether it's Casey's pizza or a prime rib roast. No wonder the apostle Peter includes this with his instructions for the young church.

But we'd be amiss to disregard the challenge that Covid has brought to our normal rhythms of hospitality. Traditional gatherings of family and friends are certainly limited, and we all feel the lack of connection. So how do we show hospitality to 'one another'?

It's a weird time, but we can still show warmth to strangers, family and friends. Rather than inviting friends, families or neighbors into our homes, we can take hospitality to them with a cookie, a puzzle, or a small gift or card they receive in the mail. Texting for no reason but to say, 'I'm thinking about you' or 'I am praying for you today,' can make an ordinary day more special. Another idea for those who are worshipping back on site is to simply introduce yourself to someone you've not met. One family had the idea to sit in a different location in the worship center each week for the purpose of hospitality. Even a short conversation is the exact definition of hospitality: 'the friendly and generous reception of guests, visitors or strangers'. It can be brief meeting, but the effect of this warmth can be significant.

Our uncertain times have caused us to pivot, be creative and flexible beyond in many ways that we would have never imagined. Let's not wait until 'better days' to move toward outsiders and visitors. We can remember that we too were strangers, and Jesus invited us in.

Just for today-

+ Pray and ask God to whom you can show hospitality to this week.
+ Consider changing your seat location when you are back for in-person worship.
+ Thank God that he welcomed you in, even when you were a stranger.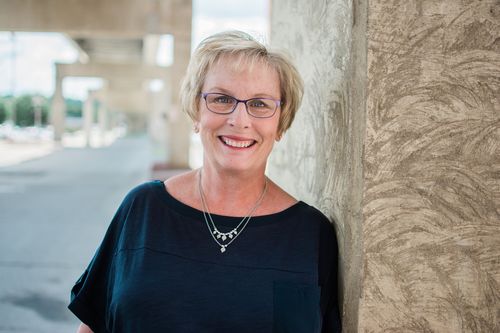 Linda Miller | Ministry Development