Everyday with God

Live in harmony with one another. Do not be proud,
but be willing to associate with people of low position.
Do not be conceited.
Romans 12:16
Mountains are incredible. Whenever we encounter them, we almost can't help but feel this sense of awe and wonder. If you've ever driven through the Rockies or spent a day hiking a mountain, you know exactly what this is like. As much as we try to capture what we're seeing, pictures never do justice to the grandeur and majesty of mountains. I can't help but think God did that on purpose. When he created mountains, he knew how we'd react – ultimately being pointed to the greatness of the Creator.

But, we miss this. Growing up, I specifically remember car rides where my parents had to force me to get off a screen so I could begrudgingly look out the window at the beauty that I didn't care to see. We find that just because God designed things to be a certain way, it doesn't mean we'll follow in this design. Sadly, our tendency is to go against how God created things to be.

When God encourages us to live in harmony with one another, this sounds great. Not many of us wouldn't want this, yet how do we find ourselves living? Pride does get in the way. Status does seem to matter. The way we are perceived is of utmost importance, and it shows in how we handle ourselves in person as well as on social media.

As long as we let these things remain on the throne of our hearts, we won't live in harmony with each other. At the very most, we'll settle for harmony only with those who agree and affirm the way that we live and think. This isn't healthy, and this isn't how God created us to be.

So God created man in his own image, in the image of God he created him; male and female he created them. – Genesis 1:27

What if we started seeing others the way God sees us? What if we started to see those around us as image bearers of God? Would that be enough of a reason to live in harmony with them – to show them love?

When Jesus walked the earth, he befriended the outcast, healed the diseased, and didn't care what others thought of him. He saw people as image bearers of himself, and that was reason enough to love. That still is reason enough to love. Jesus laid down his very life so that we could be brought back into a relationship with God.

But God demonstrates his own love for us in this: While we were still sinners, Christ died for us. – Romans 5:8

If anyone had a status to uphold, it was Jesus. If anyone had a reason to not love, it was Jesus. You and I were the ones that rejected God. We turned our backs on him and rebelled. Yet, he still humbled himself to the point of dying on a cross. He laid down his status, and he gave himself up so that we could live in harmony with God forever. God, help us live in harmony with those around us. Give us your strength to do what we will fail to do on our own.

Just for today -

+ How has living in harmony with those around you been recently?
+ Think about the people you surround yourself with…are you mostly surrounded by people who agree and affirm the way you live and think? What are the dangers of this?
+ How does the love of Jesus compel you to live differently this week? Be specific here.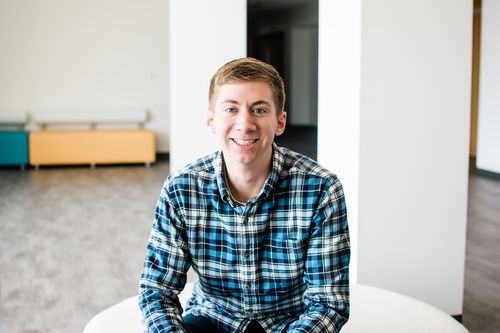 Garrett Crown | Student Ministries Associate