Everyday with God

Therefore encourage one another,
and build up one another, just as you also are doing.
I Thessalonians 5:11
Today's 'one another' verse includes two directives from Paul to the Thessalonian church. The first instruction includes the word encourage or in some translations the word comfort. Paul had visited and taught these new believers, and he was impressed by their faithfulness to Christ in the midst of persecution. It was difficult and uncharted territory for these early Christians to follow Jesus. Paul desired these friends to be sympathetic and tender to one another in the midst of struggles and to comfort each other, especially those that were anxious and worried and fearful.

He continues by imploring his friends to 'build up' one another. The Greek word, 'oikodomeo' (thank you Blue Letter Bible*) speaks to promoting growth, establishing or to make stronger. Paul understood what was needed for individuals and churches to flourish, and he wanted the Thessalonians to support each other to be strong. Paul desired these followers of Jesus to help those that were weak with truth and teaching.

How can we model this with our closest relationships, with those we interact with at church, in the neighborhood or in the community? How can we be supportive and sympathetic and help build each other's faith? Perhaps, it starts with humility.

Pastor and author Tim Keller comments that humility is 'not thinking more of myself, or thinking less of myself, it is thinking of myself less'. This is what 'one anothering' requires of us, to think of another's needs as more important than our own, but unfortunately this does not come naturally! We are easily preoccupied with our own desires, activities, responsibilities, loses and fears. An assessment of our daily thoughts about ourselves would certainly outweigh our concern for others. But there is good news! The Holy Spirit of God who resides inside us gives us hope that God will change us to be less about us, and progressively more interested in the needs of others. It is grace to us that we don't need to muster up a false sense of modesty to counter our egocentric nature. God is and will continue to remake us to reflect the heart of Jesus.

Questions for reflection:

+ How has another Christ follower encouraged and strengthened you in the past? Thank God for this person. If possible, move toward him/her with a call or note of appreciation.

+ Think about a way you can partner with God's work in your life and intentionally move toward another believer to encourage and build them up.

*Maybe you've found it, but in case you haven't, check out the Blue Letter Bible. It's an amazing website that includes hundreds of articles, study guides, timelines and even Hebrew and Greek lexicons (dictionaries of other languages). It is definitely user friendly, and even includes video aids to assist learners.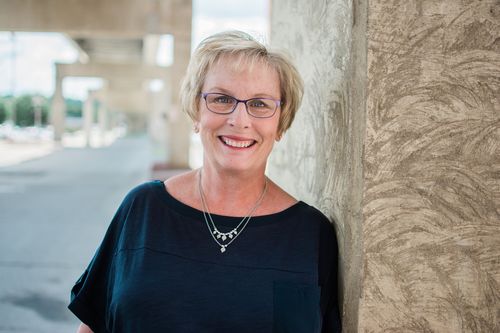 Linda Miller | Ministry Development