Be completely humble and gentle; be patient,
bearing with one another in love.
Ephesians 4:2
Maybe we overused it. Maybe it was heard too frequently, I know our kids occasionally tuned it out completely. But it was an attempt to help our little people move from a self-oriented life to one that thought of others as more important than themselves, or at minimum, to encourage them to think of others at all. It was simple, 'Are you thinking of others right now?' Whether it was sharing candy, interrupting another's conversation, impatience with a younger sibling's slow progress, or insisting on leaving the dinner table early, it often seemed to help move our kids toward a different mindset.
We've seen that the 'one-anothers' of the New Testament give clarity and detail as to how to give mutual and spiritual care. Pastor and author Andy Stanley mentions, 'The primary activity of the church is to one-another each other.' These behaviors flow out of the overflow of our relationship with Jesus.
Ephesians 4:2 speaks to three more ways to move toward care for one-another. We see humble first. This commonly misunderstood word includes both having a proper attitude toward ourselves as to our importance, and also simply thinking about ourselves less. My schedule, my responsibilities, my food, my family, my workout, my feelings, my vacations, my finances overtake our minds and thoughts... Paul Tripp so wisely remarks that God gives us grace so that we cease from building 'little claustrophobic kingdoms of one.'
And then there's patience, which can only follow humility. When we set up our kingdom with ourselves as king, we know what we want, how we want it and when we want it. We deceive ourselves into believing that our timing for all things, from big things like marriage or a career move to everyday pleasures like a simple cup of coffee, is right and reasonable. But a person of patience consistently breathes in the calming thought that God is indeed sovereign over time.
Bearing with another means we don't give up on each other, all the way to the end. Remember our Savior never asks of us what he himself did not do. He was humble in his approach to us, he was gentle with us and is continually patient, holding on to us to the end. It is grace to us, that now, he wants to do all this through us.
Questions for reflection:
How can you use the 'Are you thinking of others?' phrase in your own life?
When impatience shows up, consider taking a deep breath and remembering that God is sovereign over time.
In what ways do you tend to build up your 'little claustrophobic kingdom of one'?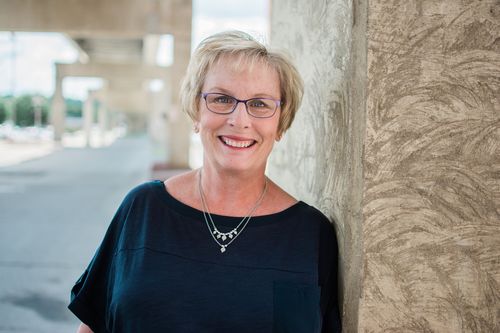 Linda Miller | Ministry Development